Jay's home page · Recreation
---
Books and reading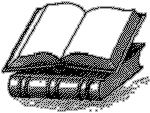 `Marge Piercy! What an enlightened young man you are!' - a stranger in a Boston T station. She later confessed that she was a writer herself, and that felt she had `outgrown' Marge Piercy lately.

`On Wednesdays when the sky is blue
And I have nothing else to do
I sometimes wonder if it's true
That who is what and what is who.'
- A. A. Milne

Besides this page, you should definitely check out my reading list - books I'm reading, have read recently, or particularly recommend.

Among other things, I read science fiction. Among my favourite authors are:
Marge Piercy (utter goddess of human literature!)
Ursula K. LeGuin
Ray Bradbury
Margaret Atwood
Geoffrey Chaucer
Arthur C. Clarke
Bharati Mukherjee
J. R. R. Tolkien (new)

I like some Heinlein, too, but find I have to work too hard at suspention of disbelief on his later stuff. (See my Politics page for why.) As mentioned on my Education page, I was an avid participant in Storyreading in college - a group of people who get together weekly for childrens' stories, milk and cookies, bad puns, and backrubs -, and I occasionally make it to the Boston Storyreading.
amazon.com is the canonical place to buy books over the Web. You can find just about anything that's in print in the U.S. there. I feel a little uncomfortable recommending it, though, now that it's been bought by the Creeping Horror out of Redmond - anybody have recommendations for alternatives?
Jan Knowlton has a page of online book resources, including publishers, booksellers, and ebooks.
At www.catch22.com there's a page of Fannish and SF related links (including links to publishers and online bookstores)
The Future Fantasy Bookstore in Palo Alto, California, for on­line book shopping
Circlet Press publishes kinky erotic SF and fantasy
Storyreading home page.
---
Jay Sekora
<js@aq.org>
last modified 2003.01.05